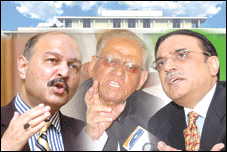 Presidential Election 2008!




Asif Ali Zardari elected new President of Pakistan

ISLAMABAD: Pakistan People's Party co-chairman, Asif Ali Zardari has been elected as new president of the Islamic Republic of Pakistan on Saturday. Asif Ali Zardari is Pakistan's 11th since 1956, when the country became a republic, excluding acting presidents.

Amidst vociferous slogans of "Jeye Bhutto" and "Zinda hae Bibi zinda hae" the Chief Election Commissioner announced the unofficial result according to which Asif Ali Zardari secured 281 votes, against 111 of Justice (Retired) Saeed-uz-Zaman Siddiqui and 34 of Mushahid Hussain Sayed, out of 436 total votes, of which ten were invalid.

Zardari also swept the polls in the provincial assemblies of NWFP, Sindh and Balochistan.

Zardari bagged 100 percent votes from his native Province's Sindh Assembly; he bagged 162 votes out of 163 cast in the house of 166 with one vote declared invalid. The result was announced by Presiding Officer, Chief Justice Sindh High Court, Justice Anwar Zaheer Jamali immediately after the counting was over. In the house of 166, not a single vote was cast in favor of any of the other two presidential candidates Mushahid Hussain Sayed and Justice ® Saeed-uz-Zaman Siddiqui.

Asif Zardari emerged victorious in the Balochistan Assembly by securing 59 out of the 63 votes polled for the presidential election. The other candidates for the post, Justice Saeed-uz-Zaman Siddiqui of PML-N and Mushahid Hussain Sayed of PML-Q got 2 votes each.

The result was announced by the Presiding Officer, Chief Justice of Balochistan High Court Justice Amanullah Yasinzai after counting of votes. Sardar Yar Muhammad Rind and Tariq Hussain Masoori abstained.

In the NWFP Assembly, Asif Zardari secured record 107 votes out of a total of 124 votes polled. Justice ® Saeed-uz-Zaman Siddiqui of PML-N grabbed 10 votes while Senator Mushahid Hussain Sayed of PML-Q obtained only three votes. While four votes were declared invalid as it were wrongly marked. Presiding Officer Tariq Pervez, Chief Justice of Peshawar High Court declared the unofficial results after counting of the votes.

Earlier, The voting process was held through a secret ballot by the two chambers of the national parliament, the National Assembly and Senate and the four provincial assemblies.

Chief Election Commissioner, Justice ® Qazi Muhammad Farooq conducted the proceedings as Returning Officer for election to the Office of the President. At the Parliament House, members from both the Houses, Senate and National Assembly, cast their votes to elect the President, being the Electoral College for Presidential election.

The contest was between Asif Ali Zardari of Pakistan People's Party (PPP), Justice ® Saeed-uz-Zaman Siddiqui of Pakistan Muslim League (PML-N) and Mushahid Hussain Sayed of Pakistan Muslim League (PML-Q).

Security has been beefed up across Pakistan and additional contingents of security forces were deployed in major cities.


Presidential election polling completed in Senate, underway in assemblies

ISLAMABAD: The polling for the election of the country's 14th president (including the caretakers), being contested by the three candidates, is progress at the Parliament House, while the Senate members have already cast their votes.


> Polling for presidential elections underway

ISLAMABAD: The voting for presidential election is underway today in the joint parliament session. Meanwhile, the simultaneous sessions at all four provincial assemblies have also been started where polling is underway. Before the session started at National Assembly, Chief Election Commissioner Justice (rtd) Qazi Mohammed Farooq briefed the house about the modus operandi for vote casting. Qazi Farooq said at least three voting booths have been made so that polling is completed early in view of the holy month of Ramazan.
PML-N's Iqbal Zafar Jhagra was the first to cast vote.
The voting would continue till 3: 00 pm without interruption. The results are expected to be issued today.
The three presidential hopefuls – Pakistan People's Party's candidate Asif Ali Zardari, Pakistan Muslim League's Justice (Retd.) Saeed-uz-Zaman Siddiqui and PML-Q's Mushahid Hussain Sayed – are contesting in the presidential race.
Earlier, Election Commission of Pakistan (ECP) finalized all necessary preparations to hold the secret vote to elect the 12th president of Pakistan..
Chief Election Commissioner is functioning as the Returning Officer assisted by three polling officers—Secretary ECP Kanwar Mohammed Dilshad, Secretary NA Karamat Niazi and Secretary Senate Raja Amin. Meanwhile, the four Chief Justices of the four provincial High Courts are the Presiding Officers to administrate the voting in Provincial Assemblies.
Code of conduct for the presidential election has also been issued.
The next president would be elected by 100 senators, 342 MNAs, 371 MPAs from Punjab Assembly, 168 from Sindh Assembly, 124 from NWFP Assembly and 65 MPAs from Balochistan Assembly.
The names of candidates have been published on ballot papers in alphabetical order. Similarly, the names of voters have also been put in alphabetical order. Every eligible voter will have to present identitiy card given them by Parliamlent Secretarat and secretariats of provincial assemblies.
It should be pertinent to mention here that presiding officers have been authorized to expel the problem-creators.
NA Speaker Dr Fahmida issued notification regarding turning NA into election office. The all provincial assemblies and parliament have been declared polling stations.
Directives have been issued to make security arrangement foolproof with special contingents of Law Enforcement Agencies and police have been deployed at all polling stations in Islamabad and all provincial capitals.
Media persons have been issued special passes to enter the premises; however, no guests or irrelevant people are not allowed to enter premises of assemblies.


Presiential election under secret balloting: Kanwar Dilshad

ISLAMABAD: Secretary Election commission of Pakistan has said that in order to maintain fair election presidential election to be held under secret balloting.

Talking to ARY One World he said that the session of Balochistan, Punjab, NWFP and Sindh assemblies have been summoned at 9:00 am today (Saturday) and balloting will continue from 10 am till 3:00 pm without any stoppage.

Strict security measures would be taken on the occasion of elections. Special contingent of law enforcement agencies and Police would be deployed and officer-having rank up to DIG would monitor the whole security situation.

Unauthorized person even visitor would not be allowed to enter in the assemblies building, however, media representatives would enter in the buildings by showing special cards to personnel of law enforcement agencies.

He also said that would be disclosed on the same day.